Supporting You Through Self-Isolation
Whether you've been diagnosed with COVID-19, or are a close or casual contact, self-isolation can be a stressful and challenging experience. At THIS WAY UP, we've developed a free, email-based program specifically designed to support your mental health throughout your self-isolation.
In this email program, you will receive periodic emails from us that include expert advice and tips for how to manage your mental health through each stage of self-isolation. Each email will also direct you to more in-depth resources that we have developed specifically for self-isolation, including videos, audio tracks, and printable guides and plans.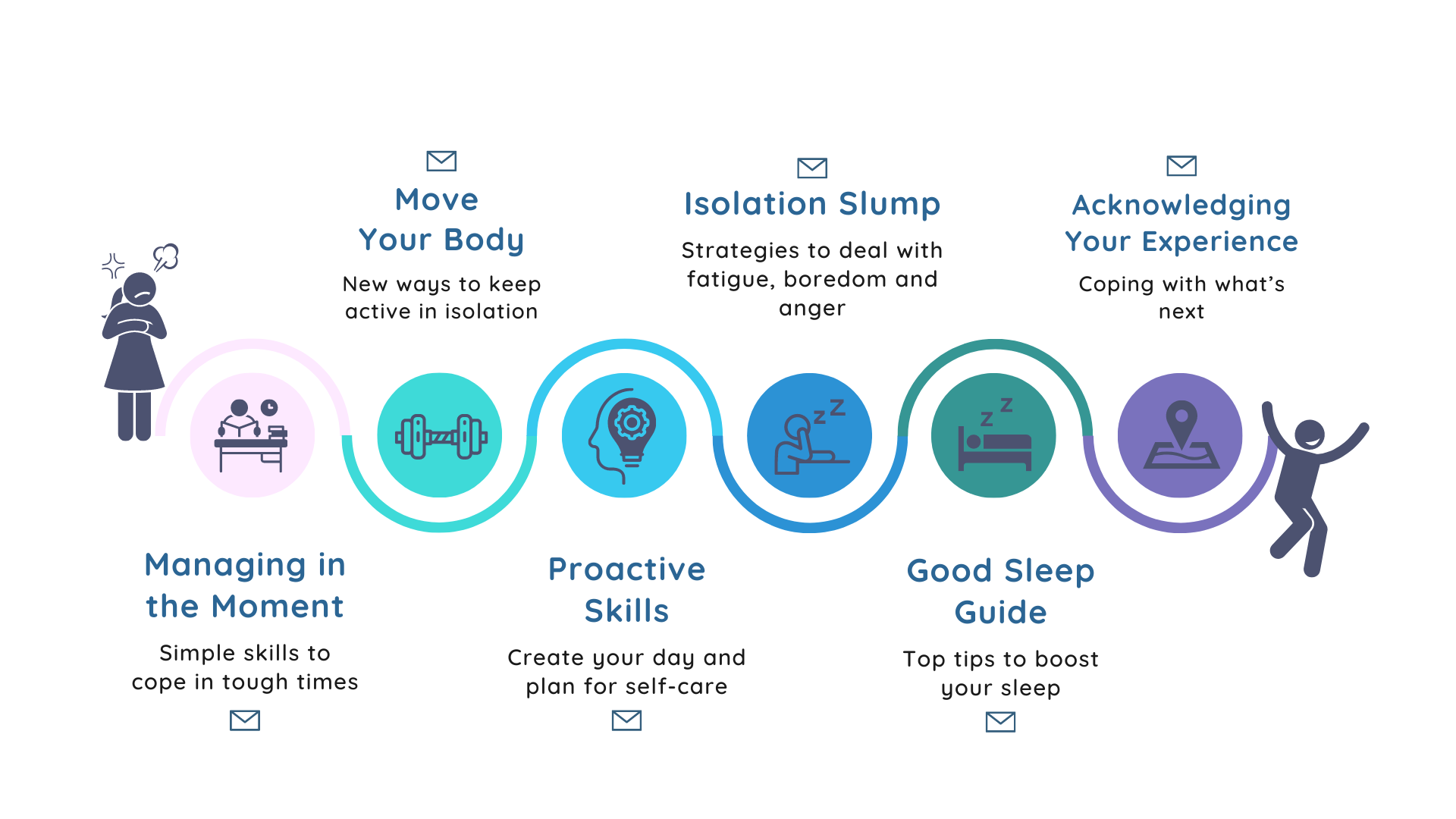 This program was designed for people starting a 7 or 10-day isolation. However, it may also be helpful if you are required to isolate for shorter periods, are partway through your isolation, or are needing to isolate for much longer.
To access this email program and start receiving support through your self-isolation, enter your email address below. The program is free, confidential and starts right away!
Tools and Resources for Managing Self-Isolation
You could be experiencing a range of emotions, and it's likely that some of these emotions are painful or difficult. Reach out if you need to. Talking to others can help you feel more grounded and supported.
Try to do at least one enjoyable or meaningful activity each day. We have a list of 50 activities related to self-care, creativity, movement, and connection, all of which can be done in isolation.
It is helpful to anticipate and plan for times when you might not feel your best. When your emotions do get very intense, having a coping plan may make this experience a little easier to manage.
Staying active can help keep both your body and mind healthy. We have provided a guide on how to stay active and deal with the challenges of exercising during self-isolation.
You may be starting to feel low, drained, frustrated, or bored, and these emotions may get in the way of your day-to-day coping. These 10 strategies will help you continue to cope through this difficult time.
Staying on Track Audio Guide
Some people may feel too tired or overwhelmed to read a self-care guide. If you prefer to listen, we've created an audio guide to walk you through 3 simple things to help you stay grounded.
You may be finding it hard to get a good night's rest. Check out our 5 top tips for how to improve your sleep in self-isolation, including how to keep up a routine and soak in daily sunlight.
You can find further practical tips, strategies and worksheets to support you through the rest of the pandemic on our COVID-19 Resources page. To visit this page you can click the link below:
Thinking Towards the Future
At the end of your isolation, you can always come back and access these resources, and visit our main website designed to continually support your mental health and wellbeing.
Practical Skills to Manage in the Moment
Understanding how you feel
Check your levels of psychological distress (Kessler-10) and understand how self-isolation may be impacting you.