Learn practical strategies for managing chronic pain, and associated low mood and anxiety with our clinically-proven online program.
Does this sound like you?
The pain system involves all of our body's systems and is a sensible and necessary system that functions to protect our bodies from a perceived threat. Sometimes the pain system can be 'faulty' and act in unusual ways. Chronic pain or persistent pain is pain that lasts longer than 3 months – beyond the healing period of tissue damage. This generally means that you experience pain despite having no new damage to the tissue. Pain does however impact on your ability to carry out your normal activities, whether these are at home or work, or in social or recreational settings. People with chronic pain will face different problems and barriers that prevent them from living their normal lifestyle, and stop them from achieving their goals.
Fortunately, you can learn to reduce the impact of chronic pain on your quality of life and many people who seek help get better. This program will teach you practical skills to tackle chronic pain and improve the way you feel.
About The Chronic Pain Program
This 8-lesson program takes a multidisciplinary approach to pain management and is based on an effective psychological treatment called Cognitive Behavioural Therapy (or CBT), which is designed to help you lessen the impact of pain on your wellbeing and quality of life.
It will teach you proven strategies for managing pain and show you how to work with your thoughts, emotions, and behaviours so you can make a positive change in how you feel.
The Chronic Pain Program was developed in conjunction with the multidisciplinary team at theReboot Online.'  
St Vincent's Hospital Sydney Department of Pain Medicine. The program has undergone clinical trials under the title '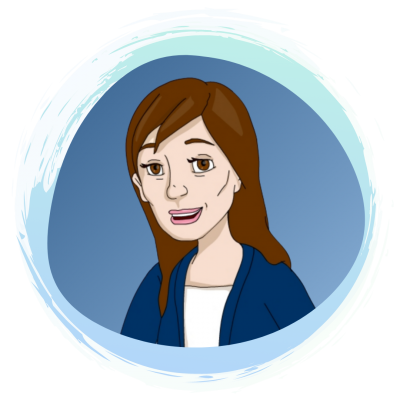 This program may be for you if:
Throughout this program you will follow an illustrated story of 'Martha' as she learns movement strategies to better manage her pain, and tackles the unhelpful thoughts and behaviours that make her experience of pain worse. Each lesson focuses on teaching you a practical skill you can use to begin changing the impact pain has on your quality of life. Once you complete a lesson, you will have 5 days to practice your new skill before the next lesson becomes available.
What Is Chronic Pain and What Is The Best Way To Manage It? – Learn about chronic pain, how it works, the brick-wall of chronic pain, and medications.
Goal Setting and Moving Towards Acceptance – Learn about the the complexity of chronic pain, how to move towards acceptance  SMART goals.
Movement, Pacing and Daily Activity Scheduling – Learn about the relationship between pain and activity,  and the components of an exercise program.
Monitoring Your Thoughts and Recognising Unhelpful Thinking Patterns – Learn about the link between thoughts, feelings and behaviours, and how to recognise unhelpful thinking.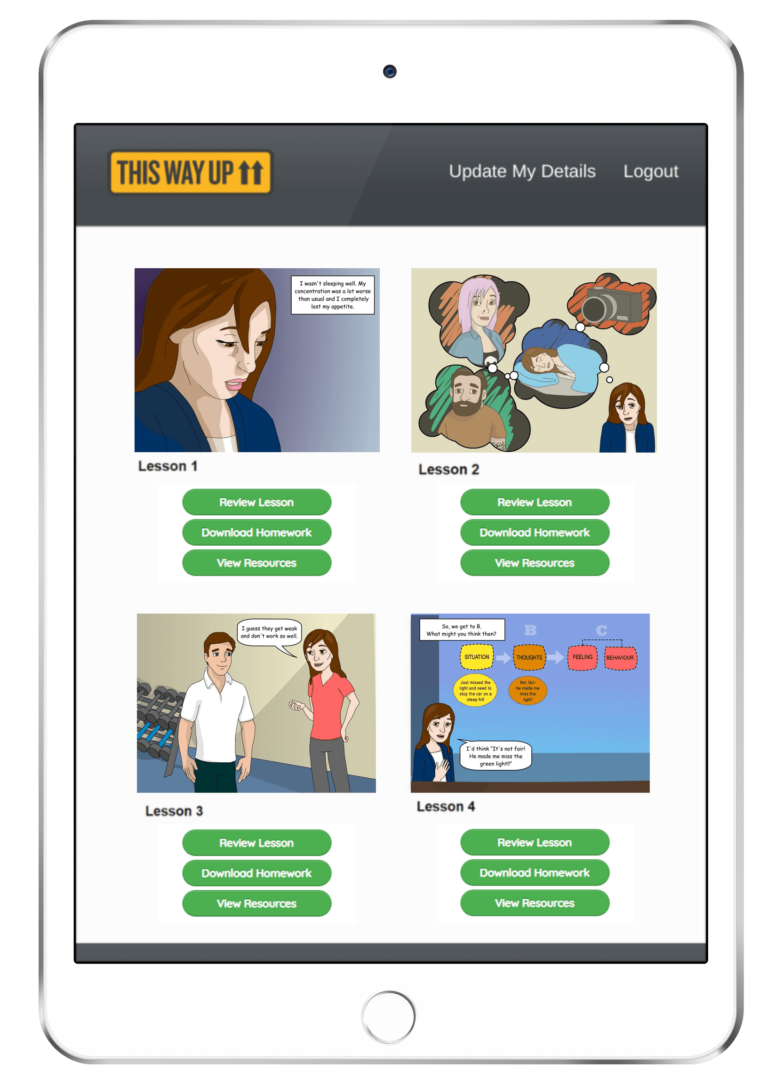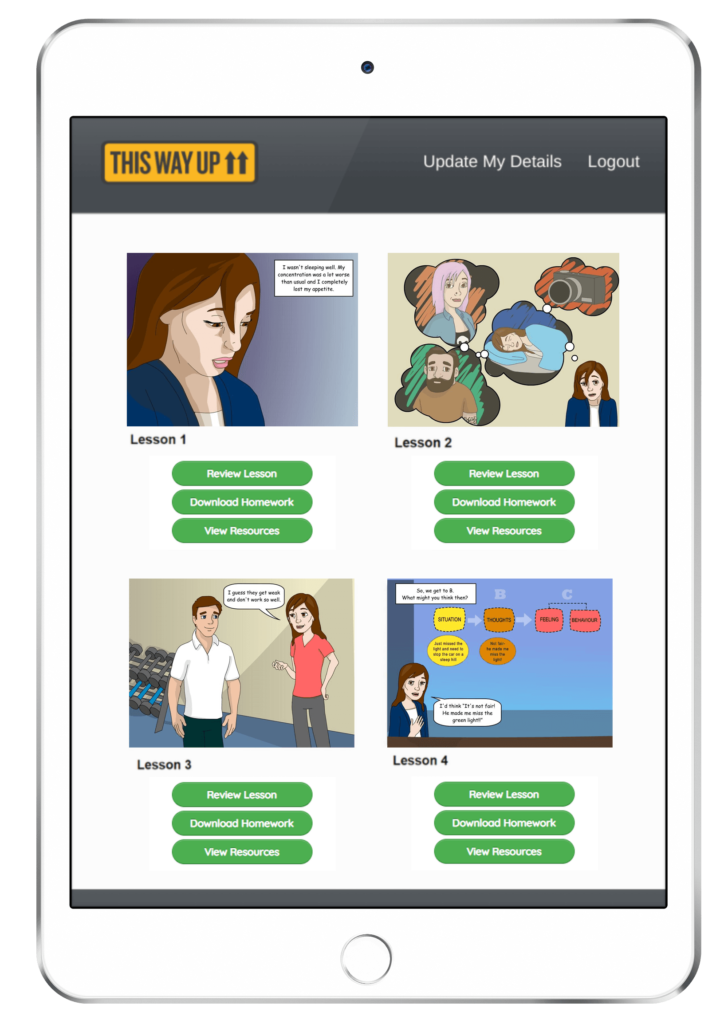 Mood and Pain, Challenging Unhelpful Thoughts and Managing Arousal – Learn to challenge unhelpful thinking, how to put planning into practice, how to manage anger, and practice relaxation to manage anxiety.
Stress Management and Getting Better Sleep – Learn about stress, how to use problem solving, and how to get better sleep.
Communication and Relationships – Learn how to communicate better and about relationships.
Managing Flare Ups – Learn about flare-ups and relapses, prevention plans, continuing your pain management and where to get more help with chronic pain.
Access convenient, discreet, and effective online self-help...
Each of our programs has been designed to help you get the most out of self-guided learning and provides you with a range of materials to support you on your recovery journey.
Story-based lessons that teach core coping skills
Tools to help you overcome common challenges
Exercises designed to help you tackle your symptoms
Reminder e-mails and texts to help you stay on track
Step-by-step activities to help you put new skills into practice
Questionnaires to help you monitor your well-being
To enrol in this program you will need to speak with your regular clinician (e.g., your GP, psychologist, or other health professional), and see if they can prescribe you this program and monitor you throughout your online treatment. You can download and take the Clinician Letter to your appointment.
Speak with your clinician about completing this treatment program for free
Get a Prescription
Free
for 120 days of access
Get free access with a prescription

Your clinician can monitor how you are

Extra 12 months of access once completed

Available worldwide with a prescription
Please note: our programs have not been evaluated in populations who have been diagnosed as having schizophrenia or bipolar disorder; people who are dependent on drugs or alcohol; or take sedative medication (e.g., Valium, lorazepam) daily. More tailored, intensive, face-to-face support from a clinician may be more suitable for these populations and for people who are thinking about suicide. We recommend that such individuals seek clinician support and medical advice before enrolling into a self-guided online treatment program for their mental health.
Frequently Asked Questions
Over the years, we've helped many individuals improve their mental health through our clinical trials and online programs. If you have any questions about this program, check out the FAQs below or get in touch with us.
The Science Behind This Program
Online Programs That Work
THIS WAY UP has been developing and releasing scientifically-supported online mental health programs for over a decade. We ensure that our programs help individuals achieve real positive results by conducting clinical research and adhering to the best practice guidelines in treatment of mental health conditions.
Program Registrations to Date
Clinicians Using THIS WAY UP
Choose to learn from a trusted Australian team that cares about your mental health
Did you know that you can use this evidence-based online program in treatment of Chronic Pain?
Internet-delivered CBT forms part of the stepped-care approach to treatment.
As a registered THIS WAY UP clinician you can prescribe The Chronic Pain program to your clients and stay informed of their progress.