Therapy on Demand: THIS WAY UP is Ready When You Are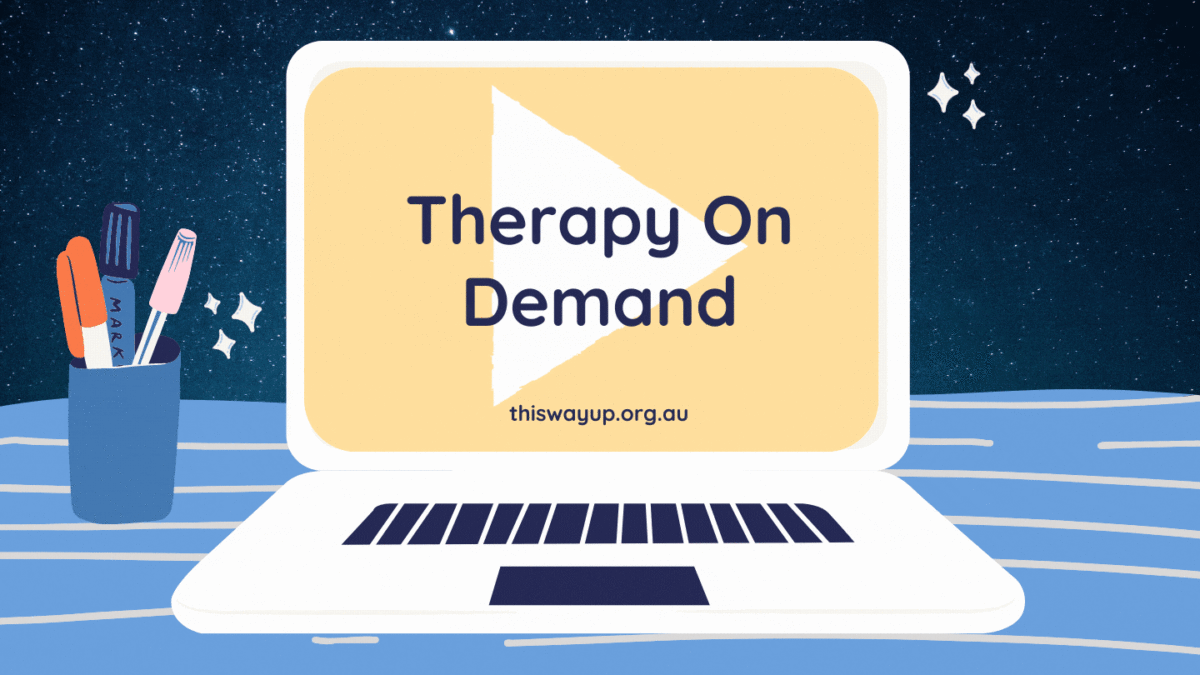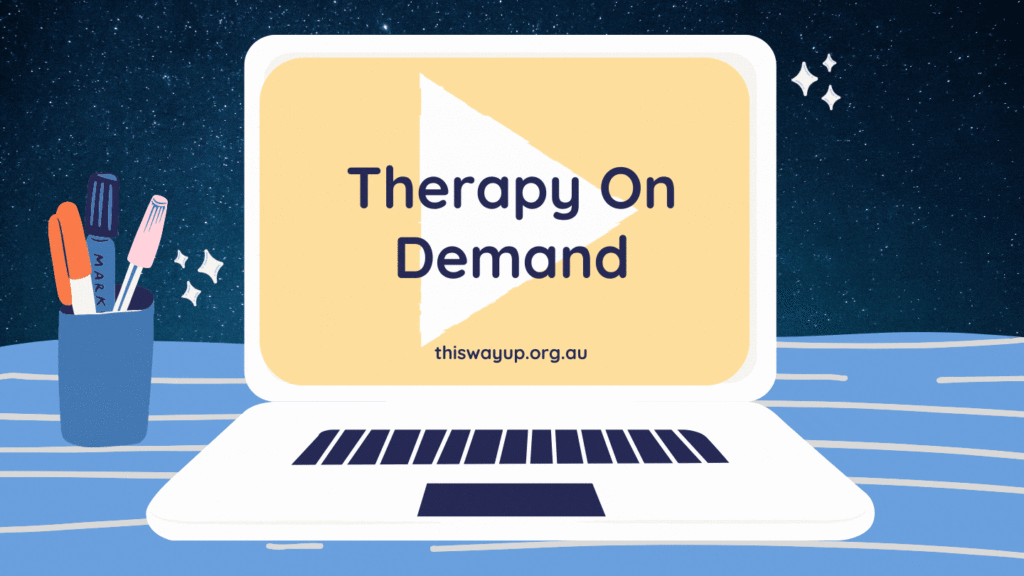 The need for therapy is at an all-time high, especially during the last 18 months of devastation, uncertainty and isolation. Thankfully, technology has helped drive change in how people access mental health support, removing challenging barriers and taking away lengthy waitlists for those seeking much-needed support.
This Mental Health Month we want to highlight our online courses as a way of getting treatment right away. THIS WAY UP is 'therapy on demand'. This means, when you're ready to improve the way you feel – so are we. You can get started with a program in a matter of minutes.
Ready When You Are
Are you ready to start learning practical strategies to improve your mental health and wellbeing? Take a look at the video below to find out how THIS WAY UP can help you right now.
Gold Standard Care Made Accessible
Online Cognitive Behaviour Therapy (iCBT) programs such as THIS WAY UP are just as effective as conventional face-to-face CBT.  These online programs give users access to help right away or at a time that suits them. Here are some more of the benefits.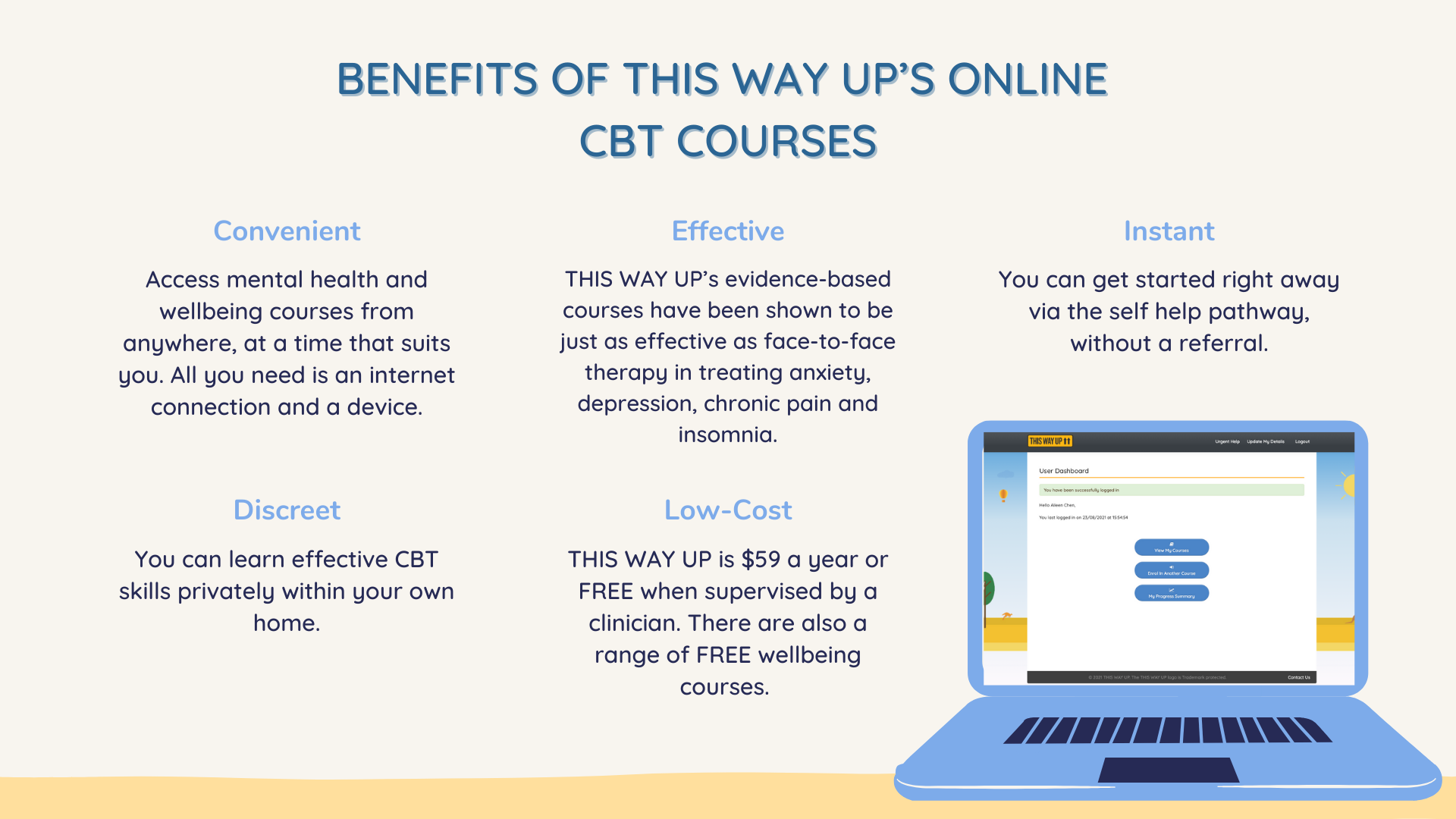 Please note: Digital Mental Health may not be suitable for everyone and if you're unsure, it's best to speak to your GP or local doctor about your options.
Learn Skills On Demand
As well as treatment courses targeting specific mental health disorders, THIS WAY UP also has a range of free coping tools and resources to help you navigate challenging times. These include infographics, free wellbeing courses, a stress test and a suite of coping with COVID-19 tools.
Plus! Introducing a brand new series of short videos which teach practical skills you can do 'in the moment'. Our new Managing in the Moment series teaches skills such as mindfulness, progressive muscle relaxation and controlled breathing. Take a look below.
Self-Care On Demand
Self-care is more than just a bubble bath. Of course, there is nothing wrong with having a bubble bath or eating chocolate, and these can indeed be much-needed forms of relaxation and enjoyment. However, self-care is also about meeting our core needs for emotional and physical wellbeing with good sleep, regular physical movement, staying connected with others, and other acts of deliberate care-for-self.
 As we navigate this pandemic period when stress and fear can be felt more intensely, self-care is more important than ever.
If you're looking for some suggestions, we have created a calendar for October's Mental Health Month with daily suggestions for implementing some self-care into your routine. Download the calendar to stick on your wall HERE!
Mental Health Month is a great opportunity to share ideas and solutions with those around you. We hope you find these new resources helpful.
For more mental health support, take a look at our evidence-based Mental Health and Wellbeing courses 
Interested in learning more?
Free Online Tools for Coping with COVID-19
Access a suite of practical workbooks, an audioguide, and other useful materials to help you manage coronavirus stress and anxiety.