Why We Need More Self-Compassion in Our Lives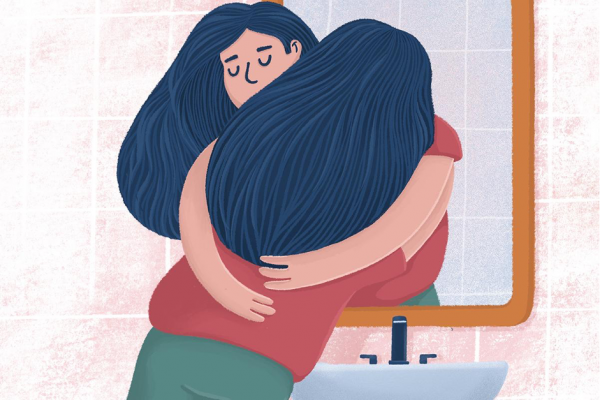 Give yourself a break: embrace the powerful tool of self-compassion….  
At the start of a new year many of us set goals to improve our health and wellbeing – and research shows most of us will give up on these goals by February. After the three years we've just had we think it's important to be kind to yourself in 2023. 
Have you thought about incorporating self-compassion into your daily routine? 
What is Self-Compassion?
Self-compassion is not self-pity or self-indulgent, it is about actively caring for our emotional and physical wellbeing. Over time this helps build resilience and is a powerful coping tool.
Self-compassion is about turning towards difficult and painful feelings and taking action to ease pain and suffering, rather than ignoring it or judging ourselves.
To better understand self-compassion, take a look at the three main pillars: 
Self-kindness: This means having a willingness to take care of ourselves and to challenge our inner-critic. If you wouldn't say it to a friend, don't say it to yourself. To learn how to start shifting negative thoughts, take a look at our Thought Challenging worksheet.
Common humanity: Remember, all humans suffer. It is a normal experience- 'everybody hurts sometimes'. By recognising and understanding others' suffering and vulnerability, we are likely to feel less alone. Take a look at the short animation below that shows some of life's challenges – and the help that is available.
Mindfulness: Mindfulness is about sitting with uncomfortable feelings in a non-judgmental way, and putting some distance on them. "I am having this experience, but I'm not defined by this experience."
In the short video below we show you how mindfulness helps you manage in the moment.
How to Practise Self-Compassion
Here are some examples of practicing self-compassion that you can incorporate into your daily life. Try writing them down or saying them out loud in front of a mirror:
It's okay to make mistakes, nobody is perfect – and I am learning to forgive myself.
It is not selfish to show kindness to myself.
I will try not to let self-doubt or judgment hold me back from reaching my goals.
I will try to be fully present when completing a task today.
I am allowed to say no to others and yes to myself.
Changing is not easy, but it's easier if I stop being hard on myself.
Self-Compassion = Learning New Skills in 2023
The art of self-compassion can come from recognising that you are suffering and having the desire to learn new skills to help you manage. If you're unsure, you can check your levels of stress, anxiety, or low mood and see if you might benefit from learning some of our specific programs to improve your quality of life. Take a look at our Take-A-Test Tool.
You could also browse through our evidence-based programs to see if there's one that suits your needs. 
Not Sure which program is for you?
Take a Test to Help You Choose a Program
If you're unsure which program to pick, take our anonymous online test to check how you feel and see which program may be suitable. This test will show you your levels of stress, anxiety, or depression and will make suggestions on what you can do next.