The Post-Traumatic Stress Course
Learn practical strategies for managing recurrent flashbacks, nightmares, and anxiety following a traumatic event with our clinically-proven online course for post-traumatic stress.
Please note: This course was written for people who have experienced or are experiencing post-traumatic stress in response to a traumatic event in adulthood, rather than a series of traumas experienced earlier on in their development (complex trauma). For people looking for help with childhood or complex trauma, we suggest you seek individual therapy from a mental health clinician who is experienced in this area. You can see your GP for a referral.
Does this sound like you?
Posttraumatic Stress (PTS) can occur after a traumatic event. People with this condition are often troubled by distressing memories or thoughts about the trauma. They often avoid memories and other reminders about what happened, and can experience intense anxiety, sadness, or anger. These symptoms have a significant impact on relationships, work and daily activities.
A traumatic event is an event you witnessed, experienced, or learned about that involved actual or threatened death or serious injury. Common types of trauma include: car accidents, work accidents physical or sexual assault, military combat, natural disasters and working as a police, fire, or ambulance officer where you are often confronted with details of these types of trauma.
Fortunately, the post-traumatic stress response is very treatable and many people who seek help can get better. This course will teach you practical skills to tackle your symptoms and improve the way you feel.
About The Post-Traumatic Stress Course
This 8-lesson course is based on an effective psychological treatment for post-traumatic stress called Cognitive Behavioural Therapy (or CBT). It is designed to teach you proven strategies for tackling your symptoms and show you how to work with your thoughts, emotions, and behaviours so you can make a positive change in how you feel. It may be especially helpful to you if you've been previously diagnosed with Post-Traumatic Stress Disorder and haven't had CBT in the past.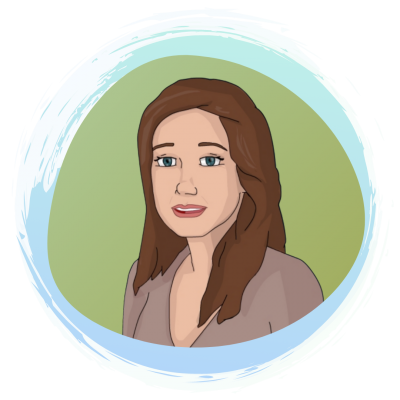 This course may be suitable for you if:
Throughout this course you will follow an illustrated story of 'Paula' as she learns how to tackle the frightening memories of her trauma and use helpful behaviours to move forward with her life. Each lesson focuses on teaching you a practical skill you can use to begin changing the vicious cycle of post-traumatic stress. Once you complete a lesson, you will have 5 days to practice your new skill before the next lesson becomes available.
About PTS – Learn about the symptoms of PTS and how cognitive behavioural therapy (CBT) can help to manage them.
Breaking the Cycle – Understand what maintains the PTS cycle and how CBT skills can help break this cycle. Learn two practical techniques to manage physical symptoms.
Finding The Link Between Thoughts And Feelings – Learn how thoughts and feelings are connected, and discover techniques to manage strong emotions linked to traumatic memories.
Changing Unhelpful Thoughts – Explore new techniques to tackle unhelpful thoughts to help you change the way you feel.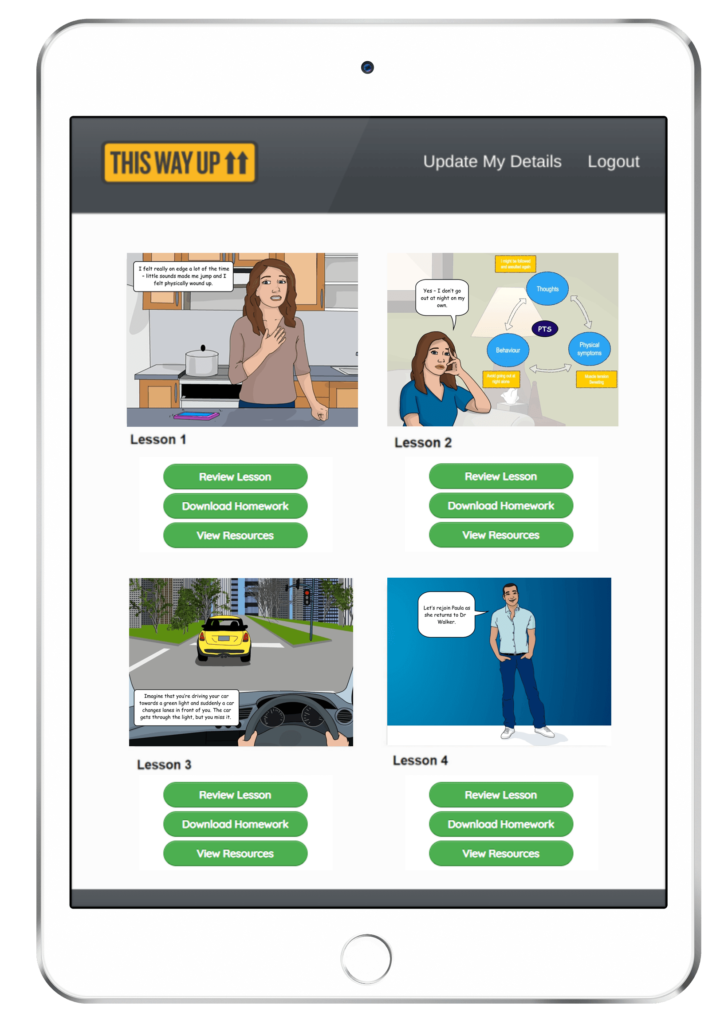 Tackling Upsetting Memories I – Learn techniques to make the thoughts and memories about your trauma less distressing.
Tackling Upsetting Memories II – Learn how to reduce avoidance of distressing thoughts and trauma memories. 
Dealing With Trigger Situations – Learn practical steps to reduce avoidance of situations and test out your unhelpful thoughts.
Staying Well – Develop ways to have better control over your symptoms in the long term and prevent relapse.
Access convenient, discreet, and effective online self-help...
Each of our courses has been designed to help you get the most out of self-guided learning and provides you with a range of materials to support you on your recovery journey.
Story-based lessons that teach core coping skills
Tools to help you overcome common challenges
Exercises designed to help you tackle your symptoms
Reminder e-mails and texts to help you stay on track
Step-by-step activities to help you put new skills into practice
Questionnaires to help you monitor your well-being
To enrol in this course you will need to speak with your regular clinician (e.g., your GP, psychologist, or other health professional), and see if they can prescribe you this course and monitor you throughout your online treatment. You can download and take the Clinician Letter to your appointment.
Speak with your clinician about completing this treatment course for free
Get a Prescription
Free
for 120 days of access
Get free access with a prescription

Your clinician can monitor how you are

Extra 12 months of access once completed

Available worldwide with a prescription
Please note: our courses have not been evaluated in populations who have been diagnosed as having schizophrenia or bipolar disorder; people who are dependent on drugs or alcohol; or take sedative medication (e.g., Valium, lorazepam) daily. More tailored, intensive, face-to-face support from a clinician may be more suitable for these populations and for people who are thinking about suicide. We recommend that such individuals seek clinician support and medical advice before enrolling into a self-guided online treatment course for their mental health.
Frequently Asked Questions
Over the years, we've helped many individuals improve their mental health through our clinical trials and online courses. If you have any questions about this course, check out the FAQs below or get in touch with us.
The Science Behind This Course
This course is based on established clinical practice guidelines. It has also been evaluated in randomised controlled trials and in studies in real world settings, including:
Not Sure if this Course is Right For You?
Take a Test to Help You Choose a Course
If you're unsure which course to pick, take our anonymous online test to check how you feel and see which course may be suitable. This test will show you your levels of stress, anxiety, or depression and will make suggestions on what you can do next.
THIS WAY UP has been developing and releasing scientifically-supported online mental health courses for over a decade. We ensure that our courses help individuals achieve real positive results by conducting clinical research and adhering to the best practice guidelines in treatment of mental health conditions.
Course Registrations to Date
Clinicians Using THIS WAY UP
Choose to learn from a trusted Australian team that cares about your mental health
This course has been developed using best practice, evidence-based strategies for the treatment of Post-Traumatic Stress.
As a registered THIS WAY UP clinician you can prescribe The Post-Traumatic Stress Course to your clients and stay informed of their progress.